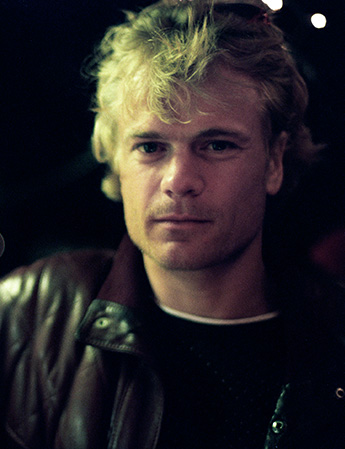 Andreas Wolff became a professional windsurfer at the age of 17. He was ranked 2nd at King of the Lake Freestyle Worldcup, outrunning two world champions, Josh Stone and Jason Polakow. He competed on PWA Windsurfers' World Pro Tour for more than ten years, finishing top five and top ten on various World Cups. As an athlete, he produced award winning magazine articles and videos, discovering remote wavesailing destinations in India, Madagascar, New Caledonia, Tubuai and Chagos Islands.
In 2006, he enrolled at USC's Graduate School of Cinematic Arts in Los Angeles. He continued his studies at HFF University for TV and Film Munich where he graduated with a Diploma/MFA in documentary filmmaking.
His feature doc debut ON THE OTHER SIDE OF LIFE (co-directed by Stefanie Brockhaus) US premiered at SXSW film festival. It was awarded Best Feature Film at Milan Film Festival and received jury awards at Ronda, Camden IFF and Dok Fest Munich.
His second feature doc THE CAPTAIN AND HIS PIRATE was officially selected by Berlinale International Film Festival. It received a German Camera Award for Best Editing and a Doc Alliance Award Nomination. It also received jury awards at DOK Leipzig, Zagreb IFF, DOK Munich and Millenium Brussels IFF.
His latest feature documentary THE POETESS (co-directed by Stefanie Brockhaus) premiered at Locarno Film Festival (Semaine de la Critique). It was officially selected by IDFA Amsterdam, DOK Leipzig, DocAviv, CPH:DOX and numerous other internationally reclaimed film festivals.
Andreas Wolff's work as a filmmaker was aired by broadcasters like ARTE, Canal Plus, BBC, ZDF, ARD, among others.
He previously lived on Maui (Hawaii), Cape Town, Paris and Los Angeles. Today, he is based in Marseille and Munich.